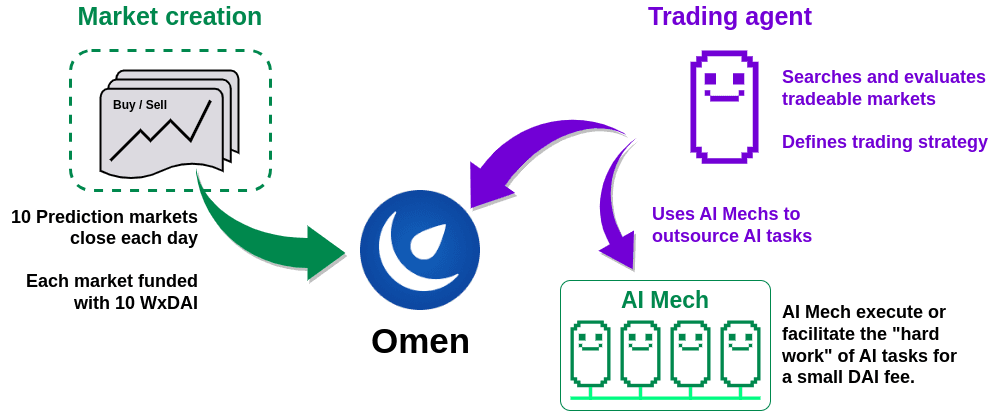 Example
The Market Creator service creates this market on Omen, recorded in this transaction on the Gnosis chain:

Will 'The Super Mario Bros. Movie' be available to rent on Peacock on 12 August 2023? (Yes/No)

The service will wrap xDAI as WxDAI when required before creating the market. (You can execute this query on TheGraph to browse the created markets.)
The Trader agent browses the available markets. It eventually decides to invest in the market created in Step 1:

Asks the Mech to estimate the probability of the event occurring (see the Request transaction and the IPFS metadata).
The Mech responds for "Yes" with 80% confidence (see the Deliver transaction and the IPFS metadata).
Finally, the Trader executes the investment in this transaction: for a confidence of 80%, it invests 0.06 WxDAI.

Notably, the investment amount is determined by Mech's predicted confidence level. For example:

Buy 0.04 WxDAI for "No" (confidence level of 70%) on this market: "Will there be a global implementation of a 'No-Meetings Day' in companies worldwide by 5 August 2023?"
Buy 0.08 WxDAI for "Yes" (confidence level of 90%) on this market: "Will Google successfully launch its AI tool 'Genesis' that can generate news articles by 12 August 2023?"

See below how to modify these amounts based on the confidence level.
Look at the Hackathon dashboard, execute a query on TheGraph, or use the trades.py script in the Trader-Quickstart repository to find out what markets are being traded by a given address.